Lean-To Conservatories
These simple, stylish uPVC conservatories offer an understated, fuss-free structure. They are a cost-effective way to get additional light and space into your home. Lean-to conservatories or Mediterranean Sun Rooms as they are also known, give you a stylish, practical and affordable extension.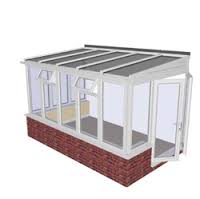 Seamless Entrance To The Outside
This lean-to conservatory offers seamless access to the outside. In conjunction with beautiful bi-folding doors, a lean-to conservatory provides you with a stylish entrance to your garden or patio.
Cost Effective
The lean-to conservatory is a simple and affordable option for those working to more of a budget. Their simple, modern structure and straightforward style makes them one of the most cost effective uPVC conservatories. They take very little time to construct.
Style Options
Lean-to conservatories come in a wide variety of style options. You can choose from full height glass panels or raised uPVC panels. Both these style options tie in very nicely with uPVC window frames.
Lots of Choice
There are many base options which include dwarf walls, full height glass panels and uPVC panels that are at the foot of the conservatory. Dwarf walls will provide you with the most insulation as well as a greater level of privacy and security but uPVC panels are usually the cheapest option.
Simple Style
The simple lean-to style features clean, symmetrical lines making them ideal for modern homes. This understated structure is ideal for those who prefer a subtler design as the lean-to will not upstage the rest of your property.
Adaptable
The lean-to conservatory is very adaptable and can be tailored to suit any awkward spaces. This is why it is recommended for smaller properties that are restricted in space. The roof can be as low or as high as required.